Public space was central in 2021
In 2021, cities and their citizens worldwide affirmed the importance of reclaiming public spaces. More than ever, Creos' temporary interactive installations helped to light up everyday life and create places of human convergence and connection, while stimulating local economies.
In constant motion
In 2021, Creos put on 16 original interactive installations at 66 different events in 44 cities in 7 countries. That represents 2,298 days of exhibiting in public spaces, a 65% increase over the previous year.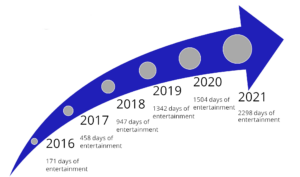 Creos' passion for enlivening public spaces through the creative industries, together with a stronger North American market and the reopening of international markets, led to revenue growth of 45%.
As always, we would like to thank both our loyal current clients and our future clients, the installation owners and creators without whom this adventure would not be possible. A very big thanks to our allies in this growth, and particularly to IQI, the National Bank, the BDC, DEL and EDC.
A word from our CEO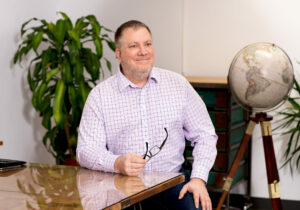 "I could talk about growth, wealth creation and performance, but first and foremost, behind Creos's success is a team. Our team. This year more than ever, our team members had to deal with isolation, work/life balance and separation. They responded with patience, resilience and tremendous creativity. They met all the challenges brilliantly: breaking new ground and earning the confidence of new partners and clients, establishing new sites, and breathing life into new installations. My sincere respect goes out to this crew, first and foremost."

BENOÎT LEMIEUX, CEO
Key backstage players
The last two years have seen their share of challenges for exports. Creos would like to recognize the professionalism and perseverance of its teams and partners along the way. Through thick and thin, they managed to adapt and make sure that each project was presented to its best advantage.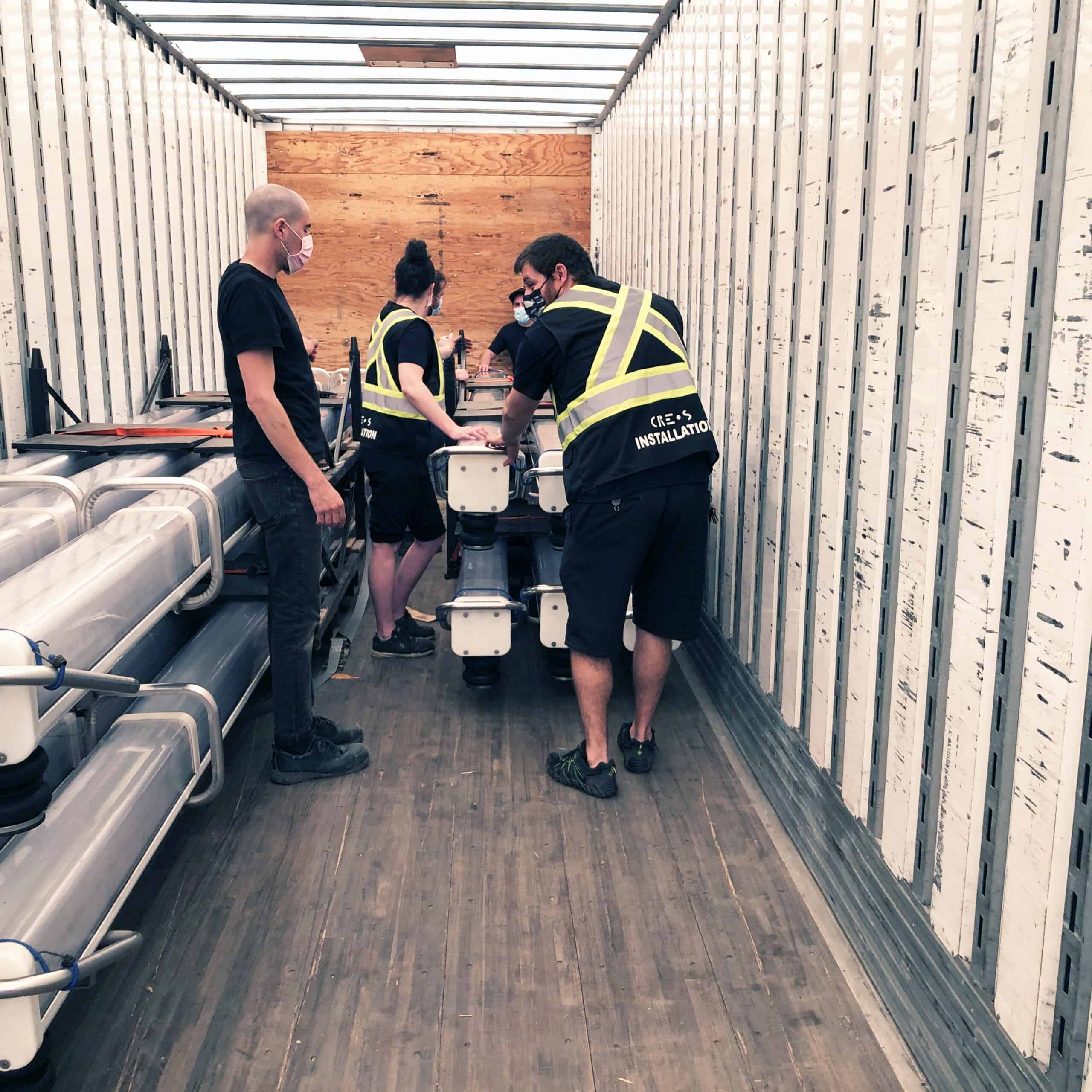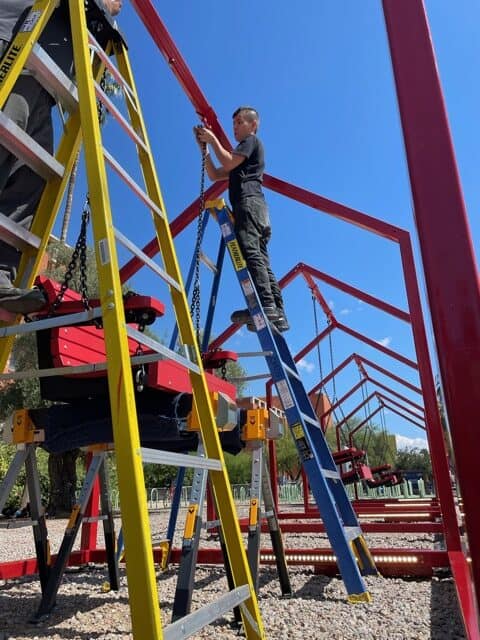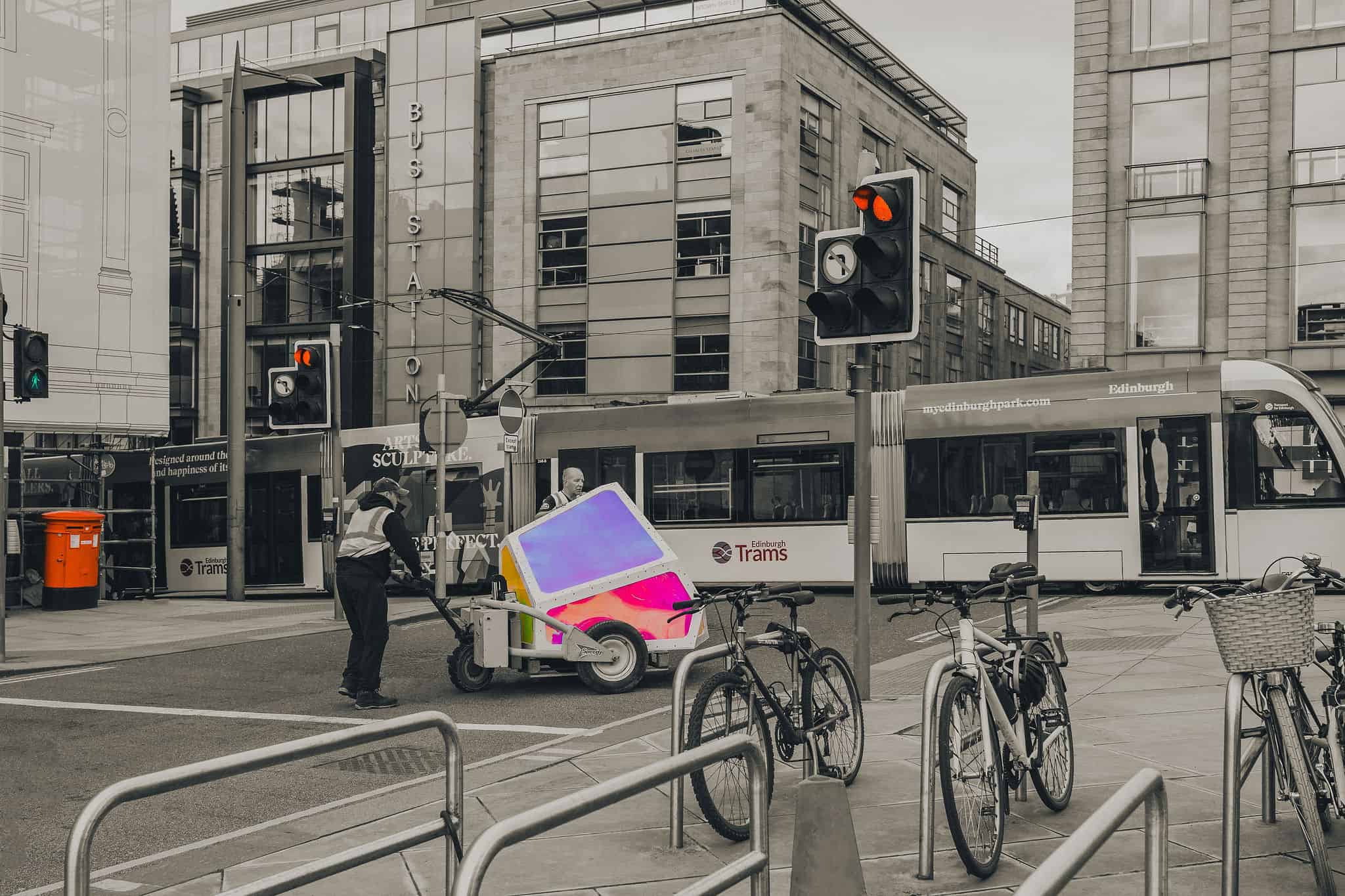 Creos' expertise: a tool for carrying out large-scale projects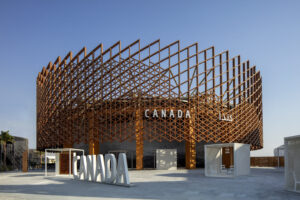 Creos was the Production Manager of TRACES in collaboration with KANVA and the National Film Board of Canada.
Creos is proud to be the bandleader that made it possible to deliver this large-scale international project, which can be seen at Expo 2020 Dubai until March 31, 2022, and pleased that we will then take the reins for the international tour of TRACES. This project is a natural fit for us that will provide international audiences, for the first time in history, with the chance to see and experience an installation mounted at a World Expo.
Natural and lasting partners
This year was a particularly good one for strengthening our ties with our partners and clients. Our presence at the annual meeting of the IDA (International Downtown Association) was an opportunity to renew our acquaintance with and reassure our partners, and maintain our positioning with that network.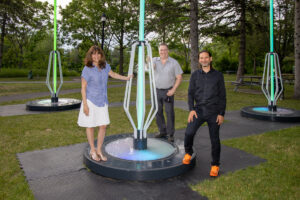 It is also crucial for Creos to collaborate with local partners. The town of Saint-Bruno has been an essential partner in recent years. In 2021, we had the opportunity to mount a testing ground for a brand new installation, Roseaux, for a mature public familiar with installations.
Special thanks to Mrs. Nathalie Roy, Member of the National Assembly for Montarville and Minister of Culture and Communications, who gave us a unique opportunity to talk about the dynamics of the "touring installation" industry and the importance of the players in the industry.
The art of bringing art to the world … for over 5 years!
Yes! Since we began operating, 22 different interactive installations have travelled and brought light, comfort and wonder to audiences from all walks of life, in over 90 cities in 13 countries on 4 continents.
Thanks to our loyal clients and new partners who want to enliven their public spaces, Creos is proud to announce that to date, it has produced over 250 projects worldwide.
Did you know…
Over the last 5 years, Creos' installations have travelled over 797,388 kilometres and have provided over 6,700 days of entertainment in public spaces, our website has had more than 70,000 visitors from 141 different countries, and we have developed over 8,440 sq. ft. (784 m2) of working and storage space. More than 446 litres of material have been composted since 2019!
A majority of our employees are Aries, closely followed by Pisces and Leo, but Sagittarians are no slackers either. This great team has welcomed seven Creos babies (Emy, Léa, Mégane, Nathan, Rosalie, Thomas, William) with one more on the way! And in addition to these births, we have had the joy of witnessing a rebirth.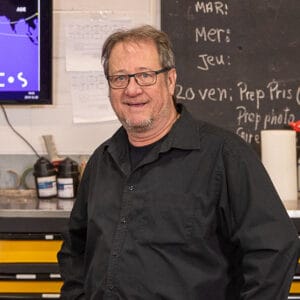 Notre chef atelier, Michel Beaudoin a vécu un mauvais moment dû à un cancer de la vessie. L'équipe s'est mobilisée afin de prendre en charge ses tâches et responsabilités afin de le garder à l'emploi, mais qu'il puisse mettre toutes ses énergies dans sa guérison.
« Vivre un cancer n'est pas une sinécure. Le soutien des proches est nécessaire à la guérison. Je dois avouer que les gestes concrets que l'équipe de Creos a posés pour faciliter mon séjour à la maison m'ont grandement touché. Mon retour en poste était toujours valorisé et c'est une grande motivation pour se guérir ! Merci la gang Creos. »
Après plus d'un an de soins, de courage et de détermination Michel termine l'année en pleine forme et prend sa retraite avec enthousiasme !