Always on the move
In 2022, 16 original interactive installations represented by Creos were deployed for 66 events in 46 cities in 5 countries. That's more than 2,000 days of exhibiting in public spaces.
For the second time, Creos is proud to be one of Canada's Top Growing Companies according to the Globe and Mail's Report on Business Magazine.
As always, we are grateful to the installation owners and creators who help us offer colourful, exciting products and without whom this venture would not be possible. Creos is proud to work with our creators, many of whom have received prestigious nominations and awards again this year, and we have dedicated a brand-new section of our website to them. Learn more about them HERE.
We also extend sincere thanks to the organizations and people that have helped us grow, especially Investissement Québec (IQ), Desjardins Capital, National Bank, the Business Development Bank of Canada (BDC), the Quebec delegations, the advisors at Inno-Centre, Développement économique de l'agglomération de Longueuil (DEL) and Export Development Canada (EDC).
Creos is pleased to have received financial support from Quebec's new commercialization and export support program (Programme de Soutien à la Commercialisation et à l'Exportation (PSCE)) and Creative Export Canada (CEC). That support will help Creos strengthen its export capacity for the coming year, and it will generate significant economic benefits, create jobs and promote collective prosperity.
Creos: We are destination makers
With its winning recipe, Creos is always doing something new and offers its customers a varied, unique and constantly updated portfolio of interactive installations.
Since its establishment, Creos has carried out more than 300 projects in 100 different cities around the world. We would like to thank all of our loyal repeat customers and our enthusiastic new customers. Thanks to you, Creos continues to grow and is doing more than ever to bring people together in public spaces and stimulate local economies.
Creos expertise shines: On the road …
Once again this year, the Creos team was called upon to share its expertise through various articles, interviews and conferences.
At HUB Montreal, Creos had the opportunity to participate in the PANEL: Location-based experiential transformations – enhancing your DNA with a presentation on how to redefine the specificities of a site, one space at a time, using as an example the international journey of the Passage installation.
At the CODAsummit: Experience, Creos was invited to be a panellist for "The Reimagined City", a forum for creators, economic agents and technology leaders to discuss the opportunities offered by combining art with business.
Also, at the International Downtown Association's (IDA's) Annual Conference and Marketplace, Creos participated in the panel Beyond creativity: How Québec studios can generate a positive impact by enhancing your public spaces, organized by Investissement Québec International (IQI) along with several key players in Quebec's creative and experiential industries. We also had an opportunity to showcase the many successful projects we have carried out in recent years with the members of this network.
… and on the Web
Creos has also appeared in different media.
During the Pour votre info podcast, CEO Benoît Lemieux spoke with Laurent Therrien about the growth of urban art.
In the November edition of CODAmagazine, Placemaking with Intention, Creos outlined the main reasons for presenting temporary interactive installations in public spaces and how to go about it.
Our colleague Alexandre had the opportunity to serve as an expert for the City Nation Place (CNP) community, talking about momentum and sharing our predictions regarding the trends that will impact place branding in 2023.
2022: A year of international and local development
In 2022, in addition to participating in networks like IDA where it is well-established, Creos carried out a number of business development missions into new markets such as NRPA, ICSC, AAM and IAAP.
Locally, Creos is pleased to have hosted the 5th edition of Maillage Numérique under the theme of collaboration as a springboard (to other countries).
Initiated by Culture Montérégie and presented by Wittycloud, this event gave eight creators, producers and presenters from Montérégie and Montreal an opportunity to showcase their techno-creative works and, in particular, facilitated essential networking for the deployment of a digital creative force in Montérégie.
The Creos family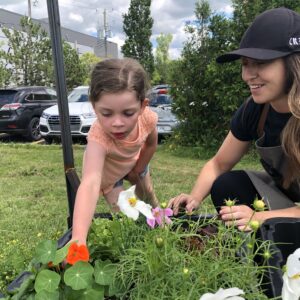 If Creos excels at what it does, it is first and foremost thanks to a passionate, agile team that it is natural and stimulating to share our vision with. A team that is capable of working both autonomously and collaboratively (even remotely) and is always driven to exceed customer expectations. We appreciate them more than we can say, and we salute them.

Creos is also like a small family. And family means gatherings! We were able to initiate various activities and get together on several occasions during the year. In addition to boosting our team spirit, those initiatives were an opportunity to put environmental responsibility front and centre once again. We are particularly proud of the fact that we have created a community vegetable garden in our office spaces. The extended family has also contributed to and benefited from the garden!
See the team in action and more in our brand-new corporate video, produced in 2022.
Creos and Init: Complementary expertise
In a global context where the need to animate public spaces is more important than ever, Creos and its new little sister Init stay at the leading edge by innovating.
"We are particularly proud to announce the creation of this new company, which confirms our leadership and know-how. Global demand is real, and as we've been saying since the very beginning, it's much bigger that the supply. Oncreasing our stock of interactive installations is an obvious strategy, as it mees the ever-growing need for placemaking. So we went for it! 

BENOÎT LEMIEUX, CEO
Specializing in the creation and fabrication of temporary interactive installations, Init works with national and international creators, multidisciplinary teams and renowned scenographers to produce unparalleled creations. Since Init's inception, three original interactive installations have been created, animating public spaces all over North America thanks to Creos.
LAPS (Olivier Landreville, Serge Maheu) –  Roseaux (1ToMn, UDO Design, Serge Maheu) – Optik (The Urban Conga, Serge Maheu)