Interview with Light Art Collection
In recent years, the diverse range of festivals and events has expanded enormously. And within that, light art has increasingly become part of the programming. This is a valuable development after years of effort have been made to take visual art out of the white cube and place it into the public space: closer to the public, and especially to the public that would not go to a museum to enjoy art. And it worked out well: in the past 10 years, light art has grown into a new, fully-fledged and accessible discipline in the international arts landscape.
Unfortunately but logically, the coronavirus outbreak and the measures taken to limit its spread are also affecting light art. However, at this point, after three months of major changes and adjustments, it feels like the world is slowly starting up again. Creative ideas are sought to return to 'normal' life and people are carefully, but positively looking forward. In this current situation, where revaluation, new initiatives and eagerness to move on seem to predominate, we at Light Art Collection, subsidiary of the Amsterdam Light Festival, are very curious about how our friends and colleagues within the light art industry are experiencing and dealing with the circumstances.
Find out what Alexandre Lemieux, Co-founder and Business Development at Creos had to say.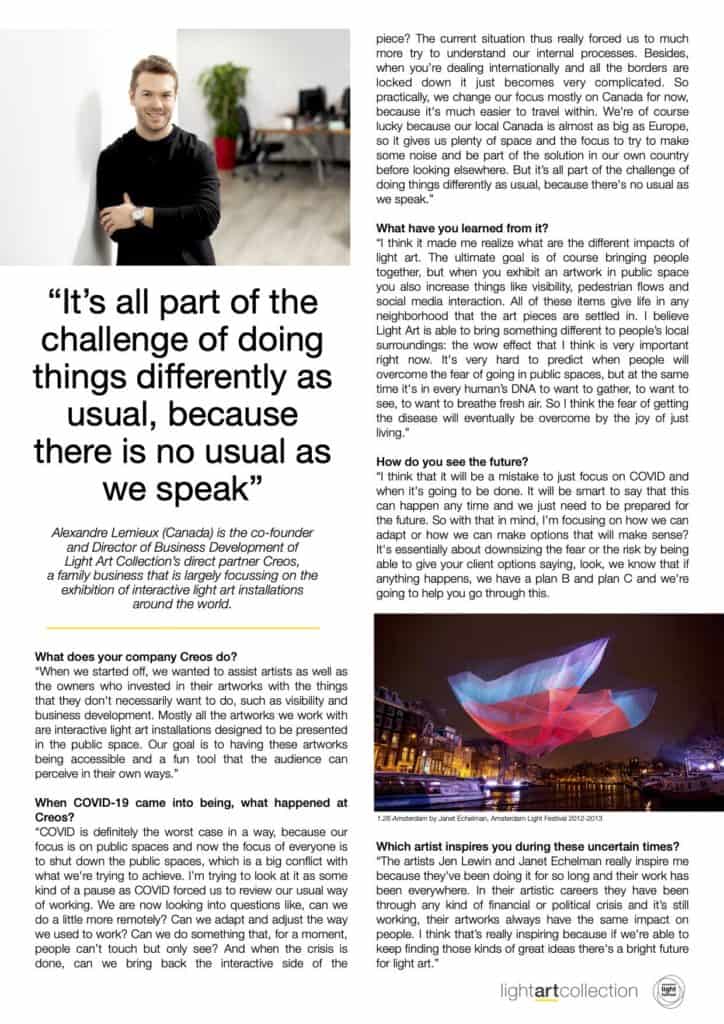 By
Light Art Collection
Publishing date
July 13,
2020