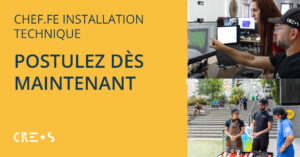 COME WORK WITH US!
You like to organize and travel occasionally.
You enjoy a well-organized and respectful work environment.
You enjoy managing multidisciplinary teams.
This offer is for you! Find the job description in French here!
Let's look at your space
Throughout the world, cities and towns are transforming their public spaces into places of convergence and human connection through art and technology. Creos puts its know-how at your service to offer original and powerful interactive installations that redefine, enliven and embellish public spaces all over the globe.